Winter centerpieces make nice winter decor for your home. You can bring a bit of the winter season into your home without even catching a cold! Place your centerpieces in the middle of your table, on the kitchen counter, on a shelf, or wherever you see fit! Decorating the home for the winter season can be fun. If you are feeling down about the winter season, then decorating may even cheer you up a little!
Centerpieces for winter come in a few styles and designs. This includes snowflakes, holiday berries, snowmen, and even centerpieces with candle holders on them. You can find them in most stores online and offline that sell seasonal home decorations. The centerpieces and prices may vary per store, but they will all fit the winter season nicely.
Here are a few ideas for winter centerpieces. You may find exact or similar centerpieces in stores.
Bring the outdoors during the winter season right into your home! A nice winter centerpiece can also be used as a candle holder. If it holds a candle, it should be made out of metal. Be careful about adding even a little bit of needles and pinecones to surround it! The ideal centerpiece and candle holder will hold three 3 inch pillar candles.
Nautical design is a popular trend, especially around the coastal regions of the United States. If you are into ship lights, shiplap, blue and white color schemes, and the like, why not dress up a large candle by surrounding it with seashells?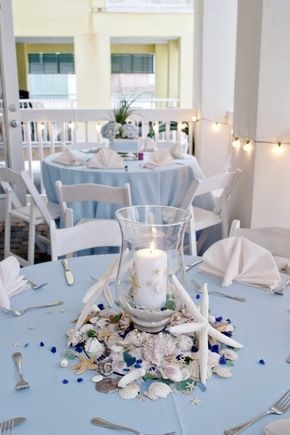 If you're thinking about snowflakes, go for a mini centerpiece that has a base that is bursting with blue or white snowflakes and silver decorations! That will go with any decor, and should fit your room as long as it measures at 8.5 inches or less. You want it to be big enough to be noticed, but small enough to not get in the way.
Another centerpiece idea is a nice shiny bowl. It is perfect for the holidays or the winter season alone! You can add elements like winter berries, which are usually red and surrounded with holly leaves. It is a great idea to get one made out of antique silver colored iron for a nostalgic look. Most of what you'll find is topped with a clear powder coated finish to make it durable.
Another option for a fun centerpiece has a base wrapped in blue or silver foil with a white ribbon. Bursting from the base are blue snowflake decorations.
If you've got kids, a centerpiece with an adorable snowman or a little holiday tree is fun! It is perfect for the holidays or the winter season in general. Some have a little snowman that will actually glow with LED lights!
Decorating with winter centerpieces is a fun way to remind everyone that the winter season is here, even if you have nautical home lighting. If you do not want to go out in the winter to buy the centerpieces, then do not worry. You can order your centerpieces off of an online shopping websites and have it delivered right to your home! Put out the centerpieces for guests, parties, or all winter long. If you are buying more than one centerpiece or using other types of decorations, then you can decorate in a theme. For example, you can use snowflake centerpieces to match your snowflake lights and candle holders. If you do not want to use a theme, then you can mix it up a little and represent the whole winter season. The way you decorate with your centerpiece (or centerpieces) is completely up to you!
Have fun decorating your home with the winter centerpieces you choose! Enjoy the winter!